At the 64th International Mathematics Olympiad for high school students, held in Chiba (Tokyo, Japan), from 2nd to 13th July, all six members of the Olympic team of the Republic of Serbia received recognition.
Mateja Vukelić, a student of the Mathematical Grammar School in Belgrade, won a silver medal, while bronze medals were awarded to Aleksandar Višnjić and Stefan Šebez, students from the Mathematical Grammar School in Belgrade, and Andrija Živadinović, a student from the Grammar School "Svetozar Marković" in Niš. Vukašin Pantelić and Gvozden Lapčević, students from the Mathematical Grammar School in Belgrade, received honourable mentions.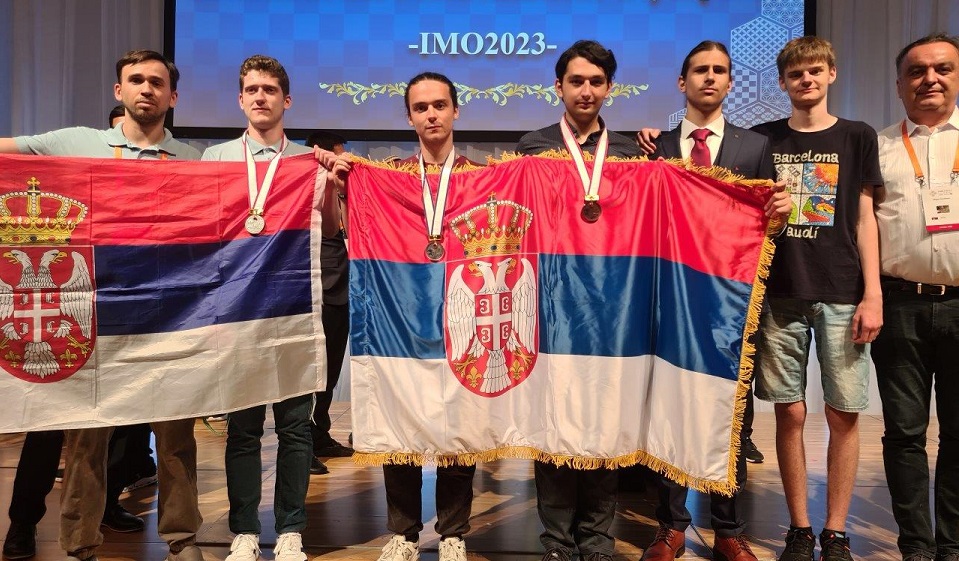 The competition officially featured 623 participants from 116 countries. Our competitors were selected after several stages of mathematical competitions organised by the Mathematical Society of Serbia.
"Four medals and two honourable mentions for the Serbian team at the International Mathematical Olympiad are results we can be extremely proud of. This is also an incentive to improve this result in the future. The Mathematical Society of Serbia will continue to support our best competitors and improve the system of working with talents in the field of mathematics and computing. Our competitions are under the patronage of the Ministry of Education, and for many years, the Petroleum Industry of Serbia has been supporting our team at international competitions, and we are very grateful for their continuous assistance. Investing in mathematics and talents means investing in and supporting the development of artificial intelligence, which is currently in focus and based on strong mathematical foundations, thus investing in the future of our country," said Prof. Dr. Miroslav Marić, the President of the Mathematical Society of Serbia.
The team leaders of the Serbian mathematical team were Dr. Miljan Knežević from the Faculty of Mathematics of the University of Belgrade, and Teodor von Burg from the Mathematical Grammar School in Belgrade.
In order to popularise natural sciences and promote our young and talented mathematicians, NIS has been cooperating with the Serbian Mathematical Society within the "Energy of Knowledge" programme since 2013, providing support for mathematics competitions at both the national and international levels.