A delegation from the NIS Company visited the Chinese company China Petroleum & Chemical Corporation (SINOPEC) in mid-Octobfer.
The main goal of the visit was to learn about the CO2 extraction, utilization and storage technologies (Carbon Capture, Utilization and Storage – CCUS) applied within the Qilu-Shengli CCUS project of the SINOPEC Company, one of the most significant projects of its kind in China. An additional focus was on the exchange of experiences of NIS experts with the Chinese side regarding the potential application of innovative technologies within the NIS CCUS project in the Pancevo Oil Refinery, the implementation of which is planned.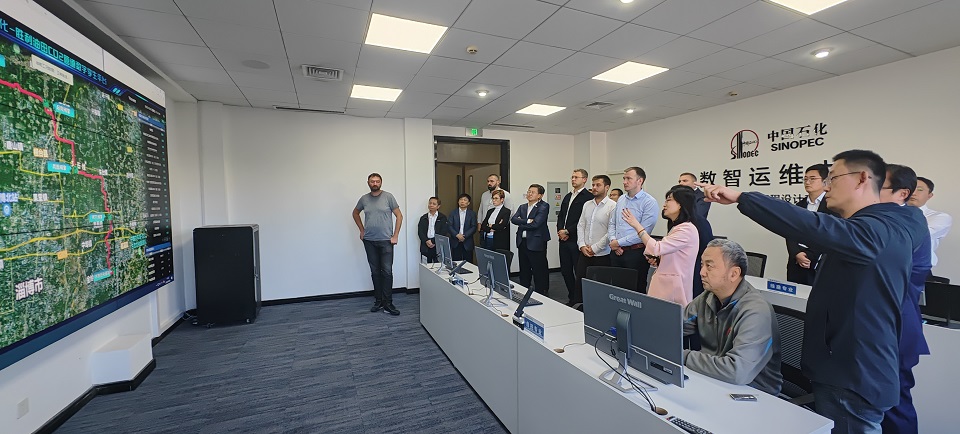 As part of the visit, a delegation of the NIS Company, led by Vadim Smirnov, Deputy General Director of NIS visited the headquarters of SINOPEC in Beijing. On that occasion, the officials of the Chinese company were presented with the business of NIS, achievements in the modernization of the Pancevo Oil Refinery, as well as the status of the CCUS project implementation:
"I am honoured by the warm and friendly reception of Chinese partners, which shows that physical distance is not an obstacle for establishing business cooperation." Also, the technological capacities in the area of CCUS that were presented to us by the SINOPEC company indicate that companies from China are not lagging behind Western technologies at all, and in that sense they can represent credible partners in the implementation of innovative projects in NIS", said the Deputy General Director of NIS, Vadim Smirnov.
On this occasion, the NIS delegation visited the CO2 extraction plant with a total capacity of over one million tons per year, which is located within the Qilu Petrochemical Complex of the SINOPEC Company, and where CO2 is extracted from the gas stream produced during coal gasification. Other than that, NIS experts had the opportunity to visit the Shenli oil field where CO2 is injected into the formations, as well as the SINOPEC scientific research centre specialized in CCUS, which includes an active and experimental laboratory for CCUS equipped with the most modern instruments, as well as a digital centre where representatives of NIS were presented with the most modern "digital twin" technology.
Photo: SINOPEC