Teams bearing poetic names such as "Tisa", "Hazel", "Ginkgo", "Wild Chestnut", "Iron Tree", "Spruce", "Japanese Garden", "White Mulberry" … carrying garden tool, were arrayed along five hectares of the garden, with the aim to clean this oasis of peace and silence in the capital. About 70 diligent gardeners, wearing already recognizable T-shirts of NIS Volunteer Club, were carefully removing the fallen leaves and placing a grass carpet, thus landscaping one of the most lavish botanical gardens in this part of Europe, with over 2,500 plant species from all over the world.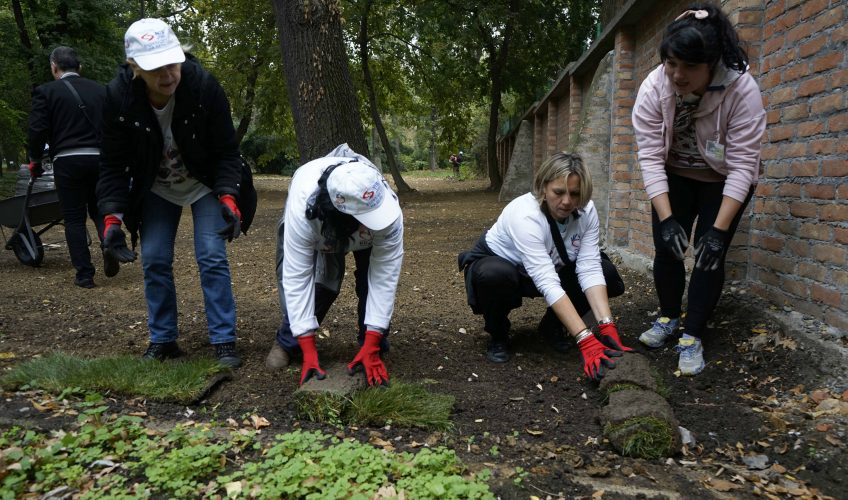 This action is the continuation of the years-long cooperation between NIS and "Jevremovac" Botanical Garden. Petroleum Industry of Serbia has recognized the significance of this Natural Monument of outstanding architectural, cultural and historical value. Among other forms of aid, heating fuel was provided for the greenhouses that accommodate valuable and rare plants, and the Garden was additionally beautified by the donation given for the construction of a wooden pergola above the open presentation area. Two years in a row, this green oasis of Belgrade has been a gathering place for NIS employees, on its Company Day celebration.
Although it has been only one year since the formal founding of NIS Volunteer Club, numerous activities have been realized so far by nearly 900 volunteers, focused on assistance to socially vulnerable categories, children and the youth, including interior designing in children hospitals, as well as engagement in environmental protection. One of the most recent activities was to support the activities of NURDOR Association in the campaign called "Extend Your Step", goal of which was to collect funds for the construction of a new Parents' House in Belgrade. More than 300 employees from all over Serbia took part in this walking campaign.