Published in "Kopaonik Business Forum Review 2020".
We live in a time of rapid technological changes. The Fourth Industrial Revolution is fundamentally changing everything – companies, production technologies, materials, product placement, consumer habits and needs, marketing channels, etc. The new era brings us drastically different technologies than those we are used to: artificial intelligence, advanced robotics, driverless cars, the Internet of Things, virtual reality. No one can say for certain what the ultimate outcome of the Fourth Industrial Revolution will be, but we can say with great certainty that new technologies are already changing our lives drastically. Hence, the implementation of the process of digitization and success in this process have become prerequisites for survival in the market and successful communication with consumers for all modern companies.
Naturally, these changes also relate to the oil industry. By its very nature, this sector is much more conservative than some other industries, who probably find it easier to adapt to the technological challenges we all face every day. First of all, the products of our industry, oil and petroleum products, can hardly become digital. Also, in certain segments of work, oil workers must remain loyal to traditional methods, first of all when dealing with hazardous materials, safety at work and environmental protection.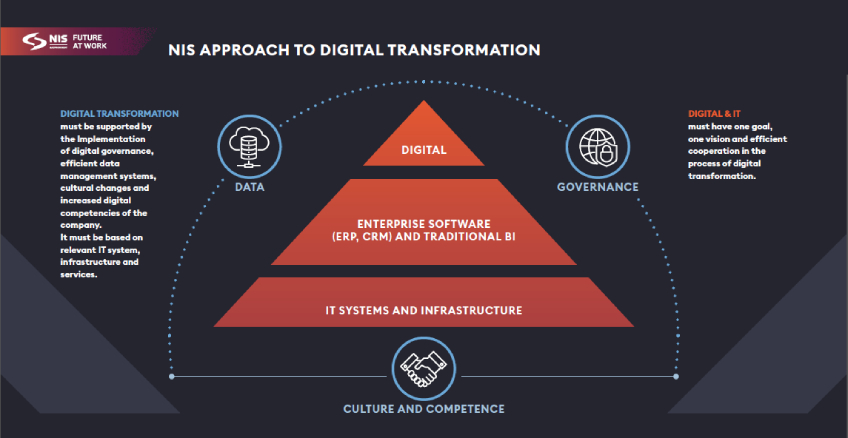 On the other hand, the oil sector is also facing numerous challenges imposed by the new era. Oil prices have changed dramatically, and the market is characterized by volatility that does not benefit oil companies. The demand for energy to be produced and delivered in a way that will contribute to combating climate change is growing simultaneously with the increase in energy needs. Analysts warn that the share of renewable energy sources in the energy mix will continue to grow, in the coming decades, at the expense of fossil fuels. In addition, there is an ongoing competition in the energy sector, which imposes the need for continuous innovation, implementation of the best available techniques, and continuous improvement of product quality on all participants.
But it is important to emphasize that digitization brings with it not only challenges but also numerous opportunities. At NIS, we are very aware of this fact and as a company that relies on the use of modern and innovative technologies, we pay considerable attention to digitization in all business areas. For NIS, digital technologies represent an opportunity to drive new company development and a tool for achieving strategic goals. That is why we see digitization as a process that can make an economic contribution to the further development of our company, boost our competitiveness in the market and create new value for our shareholders and employees.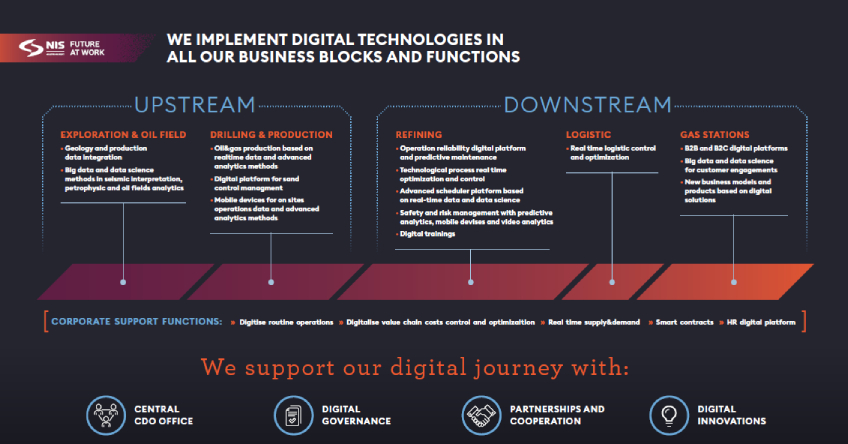 In 2019, we have made significant strides in this process. Firstly, the Chief Digital Officer (CDO) function was formed. The primary task of the CDO is to transform the company with the application of innovation and digital technologies in business operations, and thus increase their efficiency.
Based on various researches and studies of global best practices, as well as specific corporate needs, NIS has formed its digital portfolio for the needs of all business blocks and other organizational parts that support the business. Specifically, NIS has three main business orientations: exploration and production of oil and gas, refining, and ultimately sales and development, which consumers generally identify with our petrol stations. Business focuses and digital tools have been defined for each block, to help us achieve our business goals. We are also analysing which technologies would be most beneficial and useful for our purposes; Machine Learning, Artificial Intelligence, Internet of Things, usage of mobile devices, Big Data, drones, etc. Our goal is to increase the efficiency of our business operations and the efficiency of oil and gas exploration and production, raise the competences of our employees to a higher level, strengthen the safety and reliability of our plants, and improve communication with our consumers.
When it comes to exploration and production, we are focused on improving the processing of all types of geological and technological data, as well as on using different advanced analytical methods and digital platforms to manage oil and gas production. It is my belief that such an approach will increase the possibility of finding new oil and gas reservoirs in the Pannonian Basin, but also increase the efficiency of working with existing deposits. At the same time, by creating 3D models of our oilfields, we have enabled operator training in real-world conditions and simulation of different situations in the oil production process, which will not only improve the training of our employees, but also contribute to their safety.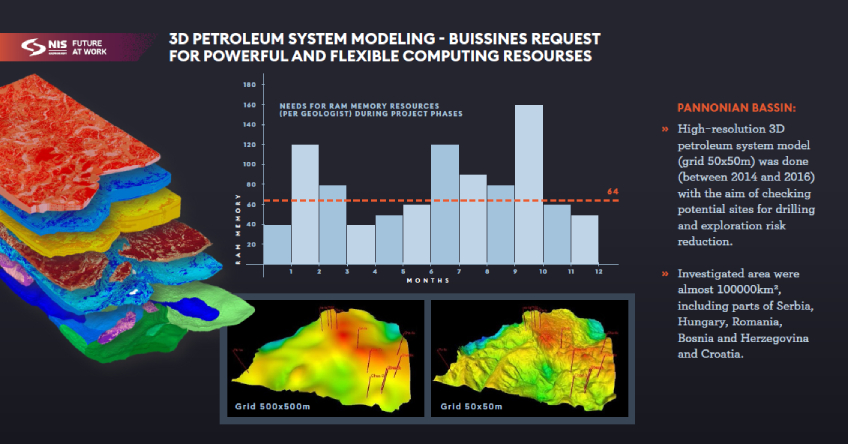 At the Pančevo Oil Refinery, which is one of the most modern refineries in the region, in the process of digitization, our focus is on improving the efficiency of managing technological processes based on real-time data and real-time analytics. Also, it is of great importance to us to increase the reliability of equipment and that is why we are working on creating digital platforms for managing equipment reliability and developing tools for predictive maintenance. In addition, we wish to improve the competencies of refinery operators, who are now, thanks to digital training programmes, able to practice working on plants that are yet to be constructed.
When it comes to retail, our primary goal is to increase the efficiency of communication between the company and its customers, both in wholesale and in retail. We see the new digital tools as an opportunity to offer our customers services that are in line with the best global trends in the field and enable them to reach our products in a faster and easier way. Improvements in the sales and distribution segment are also our obligation to our customers, as NIS is a leader in the domestic market and is developing its business in neighbouring countries as well.
At the same time, we are committed to developing digital competencies within the company. We are aware that, if we want to be a digital company, we cannot only be the buyer of innovative technologies and knowledge, but we must also develop them ourselves. For this purpose, within the NIS Scientific and Technological Centre, we have established a digital laboratory where our experts are engaged in scientific research within digital projects and the possibilities of their implementation in the oil industry. In addition, we have realized the importance of connecting with the IT community, and one of the most significant partnerships we achieved was the support that we provided to last year's Data Science Conference in Belgrade, as one of the most significant events in this sector.
And lastly, I want to point out that at the heart of every great process are – people. And the process of digital transformation is no different. It is important for us to attract the best candidates from the job market, people with exceptional digital knowledge and skills who understand the time ahead of us and the technologies that the future brings. But at the same time, we are also working to change the culture within the company in terms of introducing more work with innovation and increasingly implementing digital processes in business activities. We have no doubts that we will succeed in this, and NIS will use the process of digitization as an opportunity for further development, which is of great importance not only for the company, but also for the economy of Serbia as a whole.